The Golden Ferret Award of Excellence program has been suspended indefinitely due to members' time constraints.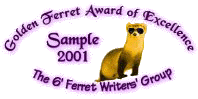 This award was presented to one writing-related site per month which
demonstrated a high quality of content and presentation. Winners were
chosen from nominations submitted during the previous month. If it happened
that none of the sites submitted in a given month met our standards of
excellence, then no award was presented.


Qualifying sites were:
non-commerical (that is, the services or information provided are free of charge)

beneficial to writers in a clear way

original and interesting

well designed, with easy navigation and working links.
---
Golden Ferret Recipient List
April 2001 - Smort.com (site no longer at URL provided)

March 2001 - No award presented.

February 2001 - rejectioncollection.com

January 2001 - National Writers Union

December 2000 - Horror Writers Association

November 2000 - The Writers Home

October 2000 - Inscriptions Magazine

September 2000 - forwriters.com
All 6' Ferret Web Pages © 1996, 2002, The 6' Ferret Writers' Group.
Please see our Usage Guidelines before reprinting any information from this site.